Sachin Tendulkar, Saurav Ganguly and VVS Laxman write scathing letter to CoA over non-appointment of Zaheer Khan and Rahul Dravid.
What's the story?
The Cricket Advisory Committee (CAC), consisting of Sourav Ganguly, Sachin Tendulkar and VVS Laxman, has cleared the air of doubt surrounding the appointment of Zaheer Khan and Rahul Dravid as India's bowling and batting consultants.
The three veterans explained this in a letter that was addressed to Vinod Rai, the chairman of BCCI's Committee of Administrators (CoA). The CoA allegedly stated that the CAC had overstepped its job by not just appointing the head coach (Ravi Shastri) but also adding the names of Khan and Dravid into the mix.
"We spoke to Mr Shastri about getting Mr Khan and Mr Dravid on board in these capacities, and he readily agreed to the idea of having them in the set-up so that it would benefit the team and Indian cricket as a whole in time to come. It was only after getting Mr Shastri's consent that we also recommended Mr Khan and Mr Dravid, in their respective capacities," said the CAC, as reported by the Times of India.
While speaking with the TOI, Ganguly, who was clearly offended by the whole issue, stated, "We'd spoken to everyone, including Ravi and Virat, before making these appointments."
In case you didn't know…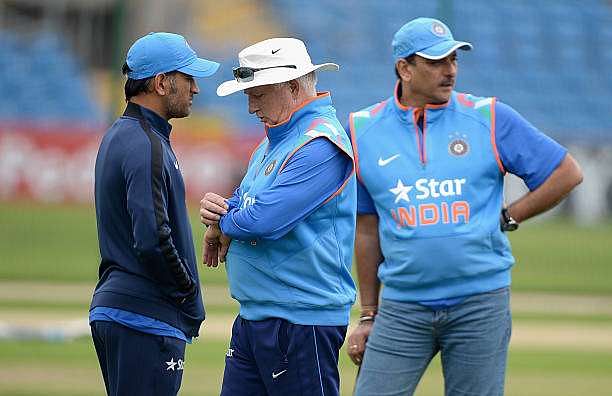 After Anil Kumble's resignation from the post of head coach of the national team, the CAC appointed Shastri after interviewing six candidates for the job. In addition to that, the committee also decided upon Khan being the bowling consultant of the team and Dravid accompanying the team for overseas tours as a batting consultant.
The five other candidates who had applied for the job of the head coach were Virender Sehwag, Tom Moody, Richard Pybus, Lalchand Rajput and Phil Simmons, but Shastri edged them due to his experience of working as the team's director from 2014 to 2016.
The details 
The legendary trio of Indian cricket has definitely not liked the way things have panned out before and after Shastri's appointment. The letter expresses hurt and disappointment on their part and its words are sharp, to-the-point and direct.
Their anguish can be easily determined from the following lines of the letter:
"You will be aware that we put our heart and soul into the process, approaching a task made delicate by the recent developments with a clear head and with sole aim of providing Indian team with best resources possible to become world beaters they are capable of being. It has both pained and disappointed us, therefore, to see the light in which the CAC has been portrayed in the media.
"The three of us played our cricket with great integrity, and we have brought that same trait in fulfilling this important responsibility bestowed upon us by the BCCI. While we are not looking for plaudits, we do not appreciate the tone and the falsehoods of the narratives."
Sachin Tendulkar, Saurav Ganguly and VVS Laxman write scathing letter to CoA over non-appointment of Zaheer Khan and Rahul Dravid. pic.twitter.com/6e8u14iCte

— Republic (@republic) July 14, 2017
Source:SportsKeeda and Republic World
Comments
comments